Managing Your Nursing Union with Software: a Crash Course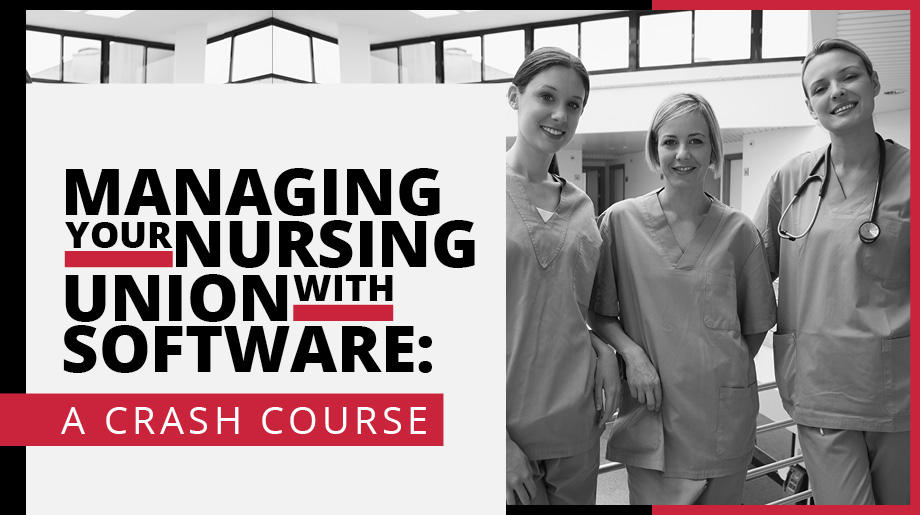 Managing Your Nursing Union with Software: a Crash Course
In 2020, nurses and other healthcare professionals were widely acclaimed for their heroic work in battling the COVID-19 pandemic and saving lives while putting their own on the line. This pandemic was also a significant challenge for the nursing community, requiring nurses to be on the front lines fighting for their rights.
That's where nursing unions come into play.
These past two years have been a trying time for the nursing community. Your members are already giving 150% towards helping others. Chances are, they don't have much bandwidth to deal with your union's management concerns, so you should optimize the experience as much as possible.
In this article, we'll learn how to manage your nursing union so you can focus on what matters most: saving your patients' lives and making your union members' working lives more manageable. Here's our roadmap:
Without further ado, let's take a look at how nursing unions have evolved over time and addressed managerial issues to provide value to their members.

Nursing Unions Today
Nursing unions existed long before the pandemic. National Nurses United (NNU), the primary nursing union in the United States, was founded in 2009. Their main purpose is to advance the interests and amplify the voices of registered nurses (RNs) as part of a single, united organization. In its first year alone, NNU organized 6,500 registered nurses and sponsored the nation's foremost RN patient safety law, among other achievements. To date, there are 170,000 nurses unionized under NNU, constituting 74% of all unionized nurses. Additionally, roughly 20% of all RNs are union members.
Throughout COVID-19, nursing unions have been bargaining harder than ever for their members' rights. With the increased need for nurses to combat the spread of the virus, nursing unions are pushing for legal protections to keep their members safe. For instance, nursing unions went to court in 2022 to get OSHA to permanently require healthcare workplaces to provide essential workers protection from COVID-19.
To say the least, there are a lot of moving parts that accompany a case like this that plays out on the national stage, especially one that concerned the rights of hundreds of thousands of essential workers. If you're wondering how the union workers possibly juggled all of their responsibilities for the case on top of their other tasks, you aren't alone. We'll get into the specifics of how nursing unions manage all of their operations to pass on the most value to their members.
Issues Nursing Unions Face
Even before the pandemic changed the healthcare sector forever and provided unprecedented challenges to nurses, nursing unions have been combatting a myriad of problems in the world of healthcare employment. Here are some of the main issues nurses face and how UnionWare, the industry's top union management software, can help.
Burnout and attrition
One of the main issues in the nurse workforce that COVID-19 has exacerbated is burnout and attrition rate. As one of the hardest-hit groups of workers by the virus, a whopping 30% of nurses across the country have resigned in the past year. Burnout is worsened by elements such as poor working conditions and hours. This is one of the primary issues nursing unions fight against in their bargaining.
How UnionWare can help
Having reliable union management software will greatly alleviate the burden of slow collective bargaining nursing union members shoulder. UnionWare's speed and accessibility will help push the bargaining process forward, allowing unions and employers to reach agreements faster and keep nurses happy in their jobs.
In particular, UnionWare's centralized database is integral to moving the process along. With all data and documents in one place, your union manager can easily create and send documents to employers. This also reduces the need for in-person meetings, as all information is conveniently located online.
Dwindling funds
The pandemic ravaged the economy, and unions were no exception. Many affiliates saw their funds taper as more and more members couldn't pay their dues on time. This leads to unions' decreased abilities to fight for greater pay for their members.
How UnionWare can help
With UnionWare, it's never been easier to guarantee more revenue. With UPay, your nursing union can automate, streamline, and provide peace of mind to your members. UPay can act as an insurance policy or back-up plan during contract negotiations with groups that deduct dues from nurses' paychecks. If those negotiations go south, that group could decide to stop deducting those dues from the paychecks, leaving your nursing union scrambling to find a way to collect those dues themselves. UPay is the solution to breaking that dependence on payroll-deducted dues. Our online payment processor is simple and fast compared to collecting paper checks.
Additionally, for your members with a hectic schedule, UPay allows automatic recurring payments to ensure financial stability for union representatives and their members. For those relying on payroll-deducted dues, you have a backup plan in place to collect in the event those deductions are disrupted.
Professional discrimination
Despite their equally crucial role in providing quality healthcare for patients, nurses face a high rate of professional discrimination from hospital leadership and their doctor counterparts. For instance, nurses are more likely to get passed over for bonuses than other healthcare workers. Additionally, this phenomenon affects more than just nurses; studies have found that professional discrimination against nurses threatens patient safety outcomes.
How UnionWare can help
UnionWare's many expansion modules allow greater communication within the union and more effective negotiations outside of the organization. The software is customizable, so you can prioritize the features you need. For example, your nursing union could use the organizing module to catalyze discussions relating to workplace discrimination. Or, you could try the cases module, which gathers all complaints, grievances, and claims in one central location so that your representative can easily pinpoint how best to approach the issue.
How You Can Manage Your Nursing Union
If you're looking for an all-in-one solution to management's pain points, look no further. Investing in UnionWare is a surefire way for you to add value to your organization and combat the numerous challenges nurses face.
To get started with the premier union software solution, complete these simple steps:
Go to an

informational webinar

Find out which

features

work best for you
Having a robust union software management system on your side is what will set your union apart and speed your negotiations along. Especially during these trying times, your nursing union is a driving force for keeping these essential workers satisfied.
Additional Resources