How to Efficiently Manage Your Firefighter Union in 2022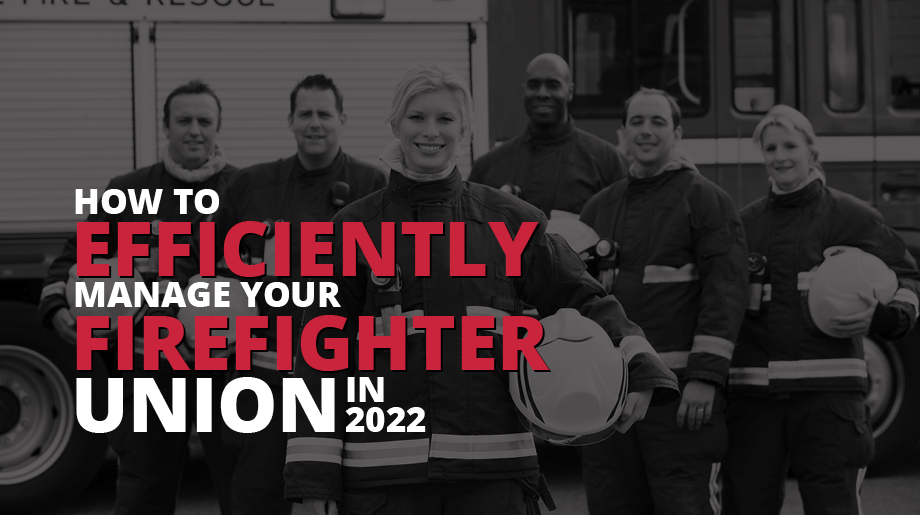 As a union leader, you're probably familiar with union management's difficult yet rewarding process. And, when you were fighting fires, you spent your days putting your life on the line to save others. The last thing you should be concerned about is making sure your firefighter union is running smoothly.
Luckily, there's a solution for firefighter unions everywhere. You can streamline all parts of your operations by investing in union management software. It can help you manage everything from dues processing and event planning to email communication with your members.
This guide will dig into the challenges firefighter unions face and how software can help. Here's what we'll be covering:
Without further ado, let's explore how firefighter union leaders use software to satisfy their members while bargaining and working for their community.


The Current State of Firefighter Unions
Before we get into some issues firefighters are facing, let's set the stage for the current state of firefighter unions.
According to the most recent reports from the National Fire Protection Association, there were 1,080,800 career and volunteer firefighters in the United States as of 2019. Of that number, 358,000 (33%) were career firefighters. These firefighters worked out of 29,537 fire stations across the country. This means that there are at least 12 career firefighters at each station.
The primary firefighter union in the United States is the IAFF. With over 300,000 members in the United States and Canada in 3,500 affiliate organizations, it's the main player in the firefighter union sphere.
You might be thinking – that's a lot of people. Indeed, managing 300,000+ firefighters is a huge task. So, how does firefighter union leadership keep their priorities in order to effectively manage their unions? That's where union management software comes into play.

Main Issues Firefighter Unions Face
Union management software – such as ours, the industry-leading platform UnionWare – is an all-in-one solution to operating your union. We're the answer to balancing your union activities with your day job. In this section, we'll discuss some of the current issues union leaders face and how UnionWare's features can help prevent, address, and resolve them.
Tight Budgets
Persistent issue unions have faced throughout history is budgeting. This is due to the fact that union member fees are used for numerous purposes. Union chapters are entirely worker-managed, so they have fewer funds to work with than their parent organizations. Therefore, it's common that the individual chapter budgets are smaller as a result. Union leaders are responsible for ensuring that all dues are collected and managed correctly to make the most use of their budgets.
How UnionWare Can Help
UnionWare cuts out the guesswork and streamlines the dues collection process. This way, every cent is recorded and can be better used. Additionally, UnionWare makes dues payments effortless for your members, making them more likely to pay the full amount at the right time. Some of UnionWare's specific money management features include:
Processes employer remittances and tracks payments through to deposits
Imports multiple file types for electronic dues batches
Maintains current data by reviewing batch exceptions to resolve discrepancies with member records
Accepts multiple forms of dues payments
Ensures secure payment processing
Facilitates troubleshooting between union leaders and members through the platform
The best way to get your money fast is to make the process seamless. UnionWare allows you to collect your dues smoothly and build more room into your budget.
Staff Churn
Another issue that unions work to prevent is staff cuts, which is a problem that unions experience internally. Keeping union leadership engaged and satisfied is a significant undertaking. It's essential to retain your union staff as much as possible so that leadership doesn't waste precious time finding and training replacements.
How UnionWare Can Help
With UnionWare, a designated worker isn't needed to manage all of the information that UnionWare is equipped to handle. For example, instead of your bookkeeper getting overwhelmed with paper records and feeling stressed or disgruntled, they can use the software to stay organized and satisfied. UnionWare handles everything from dues processing to storing member data and email management, so using centralized software will make your staff's jobs more efficient.
Slow Collective Bargaining
Another pain point union representatives deal with is the sluggish pace of collective bargaining. It can be a very hard and time-consuming process with frustrating back-and-forth communications. So, your union should do everything in its power to streamline the process. Luckily, UnionWare can help.
How UnionWare Can Help
UnionWare's centralized database is the key to reducing collective bargaining gridlock. By centralizing all the union information, such as member data and complaints, in one place, UnionWare users can speed up the process of collective bargaining. For example, keeping your information online can reduce the need for in-person meetings or slow communication by mail. And with UPay, for those relying on payroll-deducted dues, you have a backup plan in place to collect in the event negotiations don't go as planned and those deductions are disrupted.
Inflation
Skyrocketing inflation in 2022 has amplified budget constraints and other pertinent union issues. Inflation is raising the price of services and further tightening available funds. This puts pressure on unions to catalyze advocacy and bargaining efforts.
How UnionWare Can Help
Unions want to invest in software that gives them the most for their money and saves them time and money in the future. UnionWare accomplishes this by:
Managing projects
Building reports
Customizing software updates or enhancements
Providing infrastructure to host

webinars and other training sessions
Building communication channels with members
UnionWare is an easy and intuitive way to get more bang for your buck and manage your union efficiently.
UnionWare and IAFF: A Success Story
As the largest firefighter union in the United States and Canada, the IAFF needs the best possible management techniques in order to best serve its members. Several of their localized affiliates use UnionWare, and it helps them with all facets of their operations. Most importantly, UnionWare has given these affiliates more bandwidth to achieve their goal of addressing major issues firefighters face, including safety, unfair wages, benefits, working conditions, and more.

Wrapping Up
Let's face it: as a firefighter, you have more pressing matters than stressing over the ins and outs of your union. A union management software solution will help you save more of everything: time, money, you name it. Plus, it'll make your members happier and more likely to trust you with their rights. So, stop living in the past and step into the future of firefighter union management.
Additional Resources
Looking to boost union member loyalty and satisfaction? Check out UnionWare's piece on How to Manage and Retain Union Membership.
Read their union management software product page to get a more in-depth view of UnionWare's services and features.
For a custom experience learning about UnionWare, consider signing up for a training session or webinar.