6 Tips: How to Manage and Retain Union Membership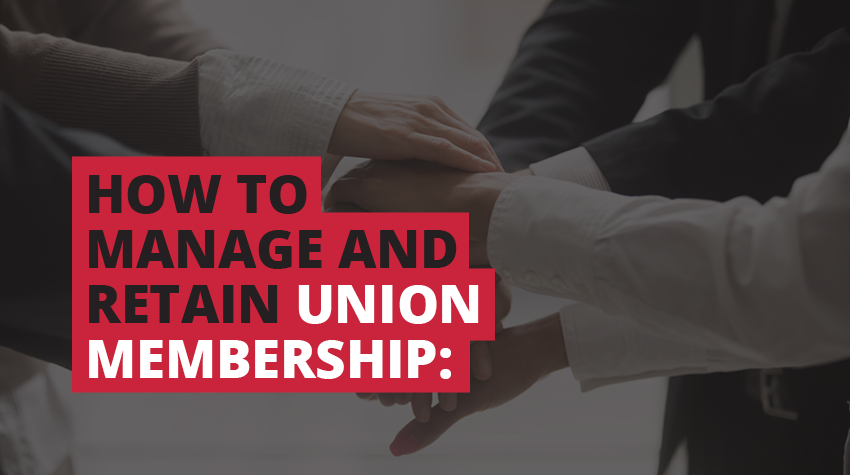 As a member of your union's leadership team, you're familiar with the many challenges that come with managing your membership. From keeping track of and retaining members, maintaining meaningful relationships, and addressing different concerns that members may have, you have a lot on your plate.
But you worry about these things because you understand just how important it is to maintain a robust and active union. Doing so can help you get closer to achieving your goals, which will only further strengthen your union membership.
Here at UnionWare, we are committed to making union management as seamless as possible. That's why we've put together this guide on managing and retaining union members. We'll cover:
The Long-Term Value of a Union Membership and Retention Strategy
6 Tips for Managing and Retaining Union Members
How Union Software Can Help
In the long run, developing a proactive union-management strategy ensures that your union will remain healthy. With a clear strategy in place, you can spend less time acquiring members and more time truly connecting with your membership community.
Plus, by streamlining your administrative tasks, you won't have to stress about chasing down dues or remembering to connect with the newest members. So, let's get started!

The Long-Term Value of a Union Membership and Retention Strategy
Sitting down with fellow leadership and operational staff to create a membership and retention strategy is a valuable use of your time. Not only are unions with a strategy more likely to follow through on membership goals, but they will also have an easier time staying organized.
For example, let's say you're managing a large union with thousands of members. Keeping track of everyone while encouraging meaningful engagement will be challenging, especially if you don't have a clear plan in place. Members who you haven't connected with yet might feel underappreciated or as though their membership isn't valuable. Without a clear roadmap with defined goals and processes, driving engagement with existing members, reinforcing relationships, and identifying at-risk members is more difficult.
Some steps in your union-management strategy might include:
Connecting with new hires within 30 days of their start date.
Streamlining and standardizing communication between organizational and Local leadership
Scheduling regular check-ins with active union members.
Sending union materials to members each quarter.
Hosting a union meeting to update members once every month.
Creating a complaints policy to handle member grievances.
Overall, a stronger and more robust union will have an easier time achieving its goals in the workplace. A well-executed management strategy ensures that you can maintain an active union as you work towards making progress.

6 Tips for Managing and Retaining Union Members
Managing and retaining union members doesn't just come down to luck — there are several tactics you can use to keep your members active and involved. At UnionWare, we've helped lots of unions navigate the challenges of management and retention, so we've seen firsthand the kinds of strategies that work. Here are our top six tips for managing and retaining union members.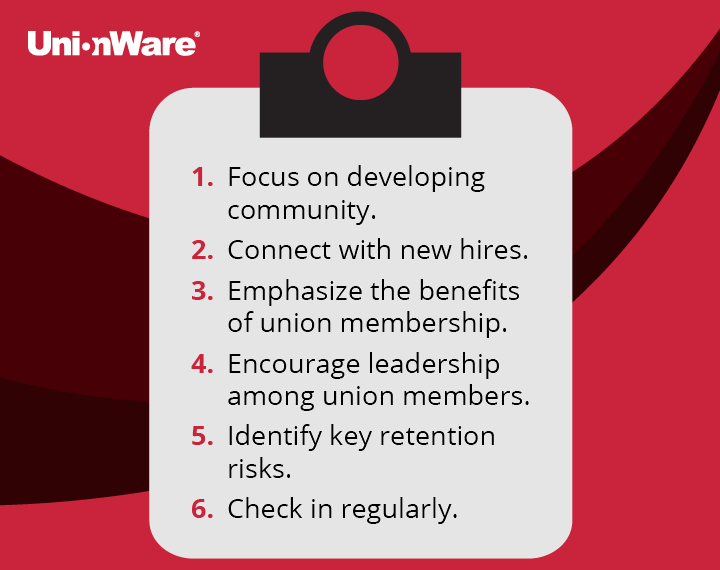 1. Focus on developing a community.
A thriving community is crucial for unions. Members who feel as though they don't relate to their fellow workers could correlate to lower interest in their union's work, so one of your top priorities should be to forge strong relationships between your organization, local leadership, and members as well as between members themselves. Not sure where to start? Here are a few ways that you can develop a strong community within your union:
Regularly host events for your union members to get to know each other.
Create a mentor program to connect experienced union members with newcomers.
Post on social media and encourage members to interact with your posts. Reply to their comments or reshares!
Launch an ambassador program to encourage active members to become even more involved.
Unions can also benefit from forging stronger ties with other organizations and businesses in the community, as they can provide a lot of valuable public support for your cause. Consider assigning someone on your leadership team with the task of building relationships with the wider community. This community organizer could identify pertinent volunteer opportunities or advocacy events that would help raise your union's visibility within your county or state.
Your members will likely appreciate the efforts you've put in to strengthen the connections between union members and with the wider community. These positive relationships can serve as a valuable motivator for interested and current members to join or remain in your union.
2. Connect with new hires.
Growing your union membership is not always easy, especially when it seems like you've already spoken with all eligible candidates. However, there's one group of people who you should always reach out to if you're looking to increase membership: new hires.
New members are a vital part of your union. Not only can they bring new ideas to the table, but they can also increase your membership numbers, creating a stronger union overall.
In order to effectively connect with new members, it's important that you reach out to them as soon as possible. It can be helpful if you develop a concrete orientation cadence for interfacing with new hires. Cover material like:
Unions 101, or how unions work
Your union's history
Your union's mission and goals
Legal protections for members
How to engage with your union
This way, every new hire will have a similar experience with the same materials. After a few months of employing this strategy, you'll also be able to assess its success rate based on new member retention and engagement rates.
If you can, try to set up a meeting with new hires during their orientation period. This way, they will be aware of your union's work and its benefits right from the start.
3. Emphasize the benefits of union membership.
Whether you're focusing on acquiring or retaining your current union members, emphasizing membership benefits is always the way to go. After all, your union exists to help workers achieve better compensation, benefits, and working conditions, so always put these advantages at the forefront of your messaging.
In marketing materials and other membership communications, explain the main services you offer, including but not limited to:
Protection (i.e. salary and rights negotiations on the members' behalf)
Pension funds
Health benefits
Training
Reimbursement (e.g. tuition)
Safety regulations
Workers' comp and disability protections
Create a pamphlet that explains your union's benefits in great detail, and be sure to regularly disseminate this information among your membership. You could also include information about benefits in a weekly or monthly newsletter or bring it up during member meetings. However, if you decide to share and reinforce the information, ensure that your members are well aware of the benefits of your union.
4. Encourage leadership among union members.
Many hands make light work, and that's certainly true of union management. You likely have a mile-long to-do list and could use some extra help to lighten the load. That's why one of your top priorities in maintaining your union should be to cultivate leadership within your broader membership.
While some active members may already express their interest in taking on more responsibilities in the union, others might be interested but are hesitant to say so. Pay attention to union members who regularly attend meetings and work closely with their Locals. These individuals might be the right people to bring on the team.
Leadership roles can range from assisting with recruitment to making big decisions on behalf of the union — whatever the roles, giving new and existing members new responsibilities will help them to feel more like an integral part of the union. This is essential if you want to maintain high engagement levels.
It's also crucial to cultivate leadership among younger generations of your base. Create mentor programs to connect experienced leadership with newer members to begin setting a foundation. Plus, highly engaged, multi-generational leadership will help drive engagement across your union as well as help with recruitment, as prospective members entering their careers will see themselves reflected in leadership.
5. Identify key retention risks.
To maintain union membership, you must continuously remain aware of retention risks. It's best if you identify key retention risks that trigger your retention strategy. Retention risks for existing members might include:
Less attendance at member meetings.
Distrust in union leadership.
Complaints were made regarding the potential lack of achievements by the union.
Less overall engagement with union materials on social media, email, or direct mail.
Changing policies or positions in your industry or at a particular business.
Once you identify these retention risks, you can develop a strategy to address each one. For example, perhaps you notice that a previously active member has stopped attending meetings and unsubscribed from your newsletter. This process only works sustainably if you define what these triggers are and actively track engagement. A database full of this up-to-date information makes it much easier to flag triggers, compile digestible lists of those at-risk members, and prioritize your outreach from there.
Rather than scramble to find a solution to keep this member engaged, you can follow your clearly outlined strategy, which may involve setting up a one-on-one meeting, re-communicating union benefits, or reaching out to the member's closest co-workers. This method takes a much more strategic approach to increasing retention rather than playing a guessing game. Plus, it ensures that any member of your union leadership or operation staff can handle a potential risk.
6. Check in regularly.
Our last tip to more effectively manage your union membership is to check in regularly. Regular check-ins will look different for every union. While smaller unions might have the capability to meet individually with their members, larger unions may need to coordinate check-ins and member engagement with Local leadership. Larger unions could also send out a survey in order to connect with all members.
When checking in with your union members, ask them the following questions:
Do you think that the union is successfully achieving its goals? Why or why not?
How often do you attend member meetings? Do you find them to be worth your time?
How could the union better serve your needs as an individual?
On a scale of 1-10, how trustful do you feel about union leadership?
Are you satisfied with how frequently the union communicates with you?
Are there any developments at your place of work that you want the union to be aware of or learn more about?
How would you improve the union?
Regular check-ins ensure members that their personal opinions are heard. During these check-ins, take thorough notes and then reconvene with your team to assess any patterns that have emerged. For example, if multiple members expressed dissatisfaction with how frequently your union communicates with them, you could launch an initiative to improve communication.
Additionally, these check-ins are a great opportunity to identify new leadership potential in the union. If a member gives a particularly positive recount of the union, consider asking these individuals to take on more responsibilities in the union.

How Union-Management Software Can Help
Hopefully, you found some tips from our list that you'd like to use in your own union. However, you might be wondering how you can successfully implement these strategies with your already full plate.
Union management software can help you tackle these problems, streamline administrative tasks, and manage your members more easily than ever. Let's take a look at some specific software features that can make a huge difference for union leadership.
Keep track of your membership.
You can manage your union's membership much more effectively if you have accurate information about your members. With union management software, you can maintain a comprehensive database with member-related information accessible from one place.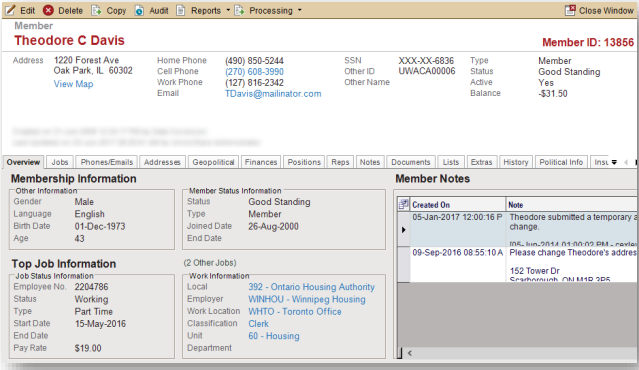 These membership tools also help you keep contact information for each member fully updated. You can also add notes to each member's profile to note which members might be at-risk or who might be an excellent candidates to join the leadership team.
Additionally, you'll be able to manage committees, keep records of work histories, and track non-members. With this suite of features, managing your members will be a breeze.
Effectively manage payments.
Union management software also helps you handle the often complicated dues process. Rather than wasting time on a slow or completely manual collections process, you can use these financial tools to automate the process and track every member payment, including dues, initiation fees, premiums, and contributions.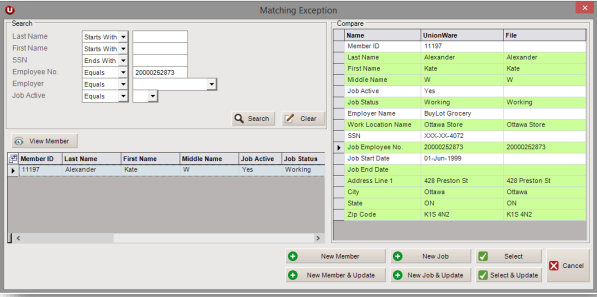 You'll also be able to quickly process paper lists with pre-populated batches, meaning you'll spend less time on these administrative tasks and more time building community among your union members.
It's also easy to track what each member may owe so that you can better target members requiring more engagement. Plus, you can generate reports to tell you everything you need to know about your union's current financial status.
Identify new members.
Events are key for unions like yours to connect with new members. Union management software provides event coordination tools that can help you organize events for your members in no time. Easily manage registrations, track attendance, and record member participation in one easy-to-use dashboard.
UnionWare's software is specifically designed to help unions identify new potential members. Instead of running all over town to find these new members, use our mapping and geocoding features to quickly pinpoint the location of new workers who might be interested in joining your union.
Final Thoughts
When managing your union members, remember to put their needs first. Purposefully connecting with members, actively asking for their feedback, and driving meaningful engagement will greatly improve your overall management and retention strategies. Make an effort to regularly check in, connect with new hires, and cultivate a meaningful and supportive community.
UnionWare can help you achieve all of your union's goals with our comprehensive organizational software. Book a demo today!