4 Best Union Software Solutions to Streamline Your Workflow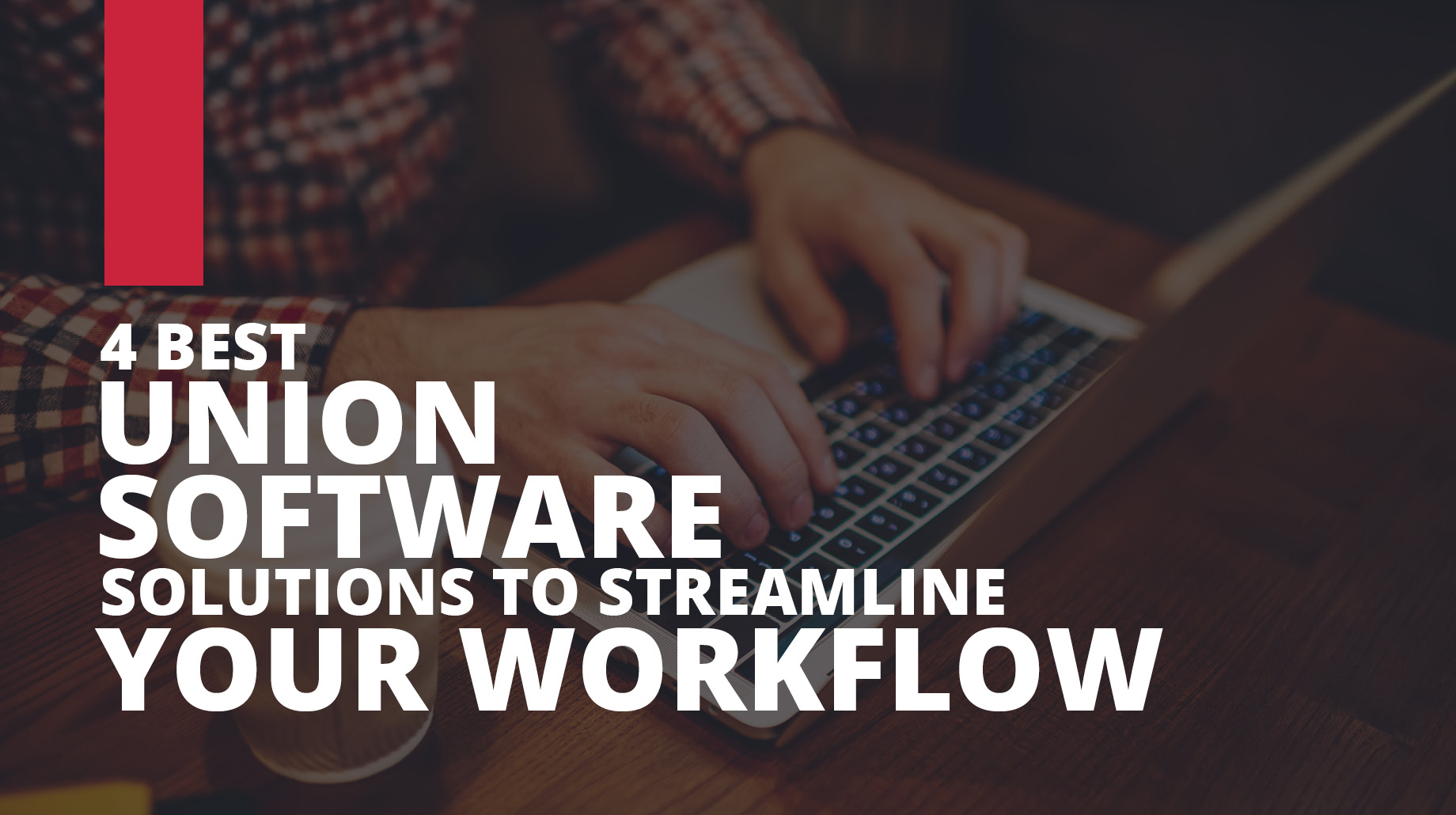 Union managers need to keep track of a variety of tasks to push their objectives across the finish line. For instance, they might need to coordinate internal communications with their team while also communicating externally with members and setting overall strategic goals. Needless to say, managing a union can be a big job.
However, with the right software solutions, your union can juggle everything on your to-do list and achieve results for your members. Let's explore the steps to choosing a union management solution, the reasons why technology is so important to your union management, and our top picks.
6 steps to choose and implement the right union management solution
Identify your needs.

Each union is unique, and you should keep your individual strengths and opportunities in mind as you look for software. Create a list of your needs based on goals and arbitrations.
Prioritize these needs.

Once you've identified your union's needs, prioritize them so you can effectively pick solutions that fulfill the most important functions.
Research and evaluate available software solutions.

Thoroughly research the available options for your chosen focus areas. Evaluate each option's features, functionality, value, reputation, and integration with other platforms you currently use.
Try before you buy.

Many solutions have free or discounted trial periods where you can determine if the solution is a good fit for your union, so take advantage of those when possible.
Implement the software and train your staff.

After choosing a software solution, integrate it into your union's daily operations and invest time in training your staff. Understand your vendor's programs so you can coordinate training sessions if they offer them. If they don't, consider working with a technology consultant to help you get up and running.
Review and scale accordingly.

Your union's needs constantly change, so you should be prepared to adjust your approach to your software. Periodically evaluate your software's value so you can optimize its scale or consider other solutions.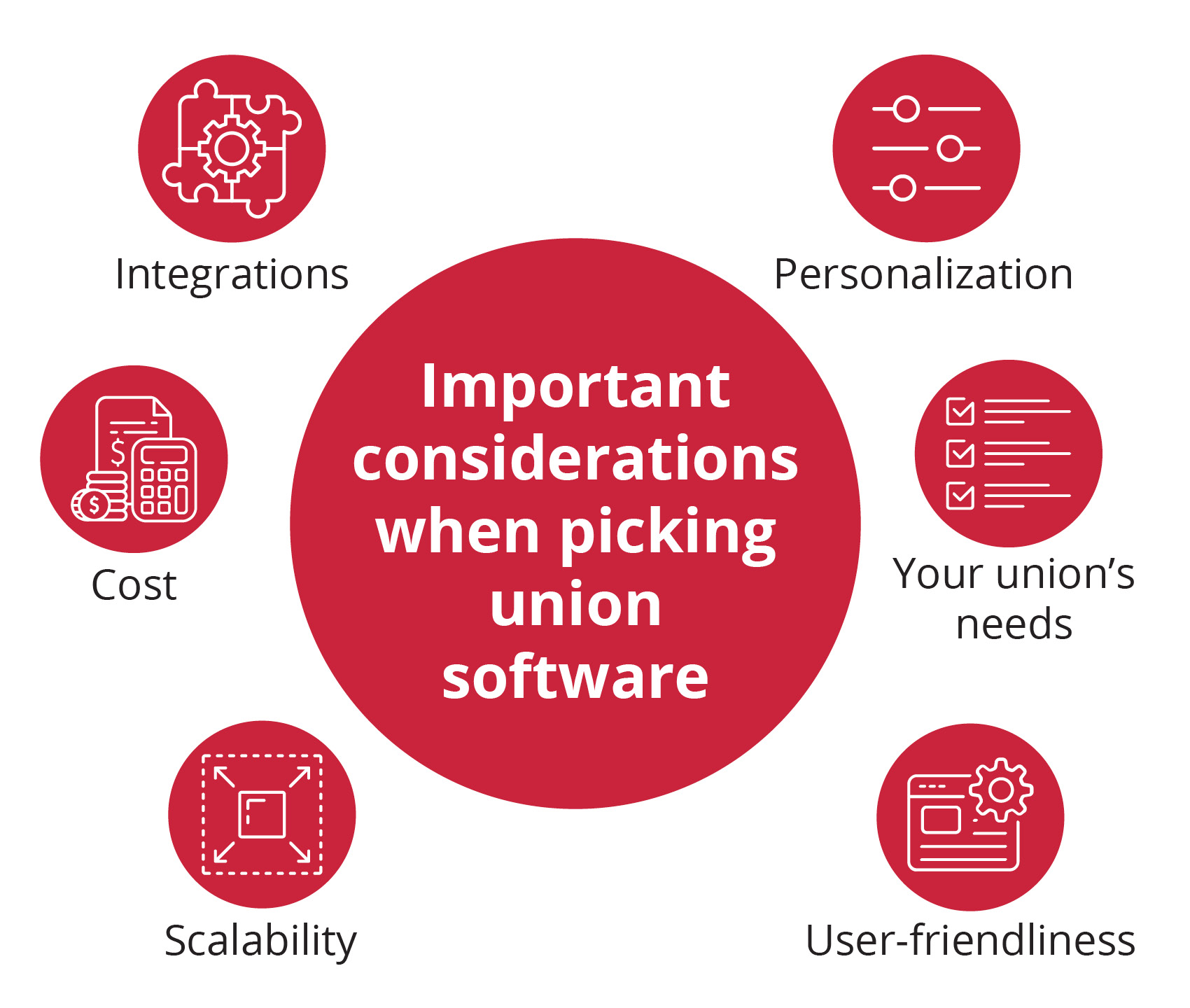 Cost. A software solution's capabilities and scalability are usually associated with its price tag. Ensure you research each platform's price and factor it into your technology budget.
User-friendliness.

Choose a solution that aligns with your team's comfort and skill with technology. No matter how complex your solution is, it should be intuitive and have a customer support team that you can leverage.
Scalability. Do you need your solution for a one-time project, or do you plan to use it in the long term? Structure your engagement based on your anticipated needs.
Integrations.

Software solutions that integrate with your other platforms facilitate data-sharing and collaboration.
Personalization.

Customizable platforms will more efficiently address your union's goals.
All of these considerations comprise your union's most important needs. Picking solutions that are made specifically for unions, in particular, offers the most utility to your organization.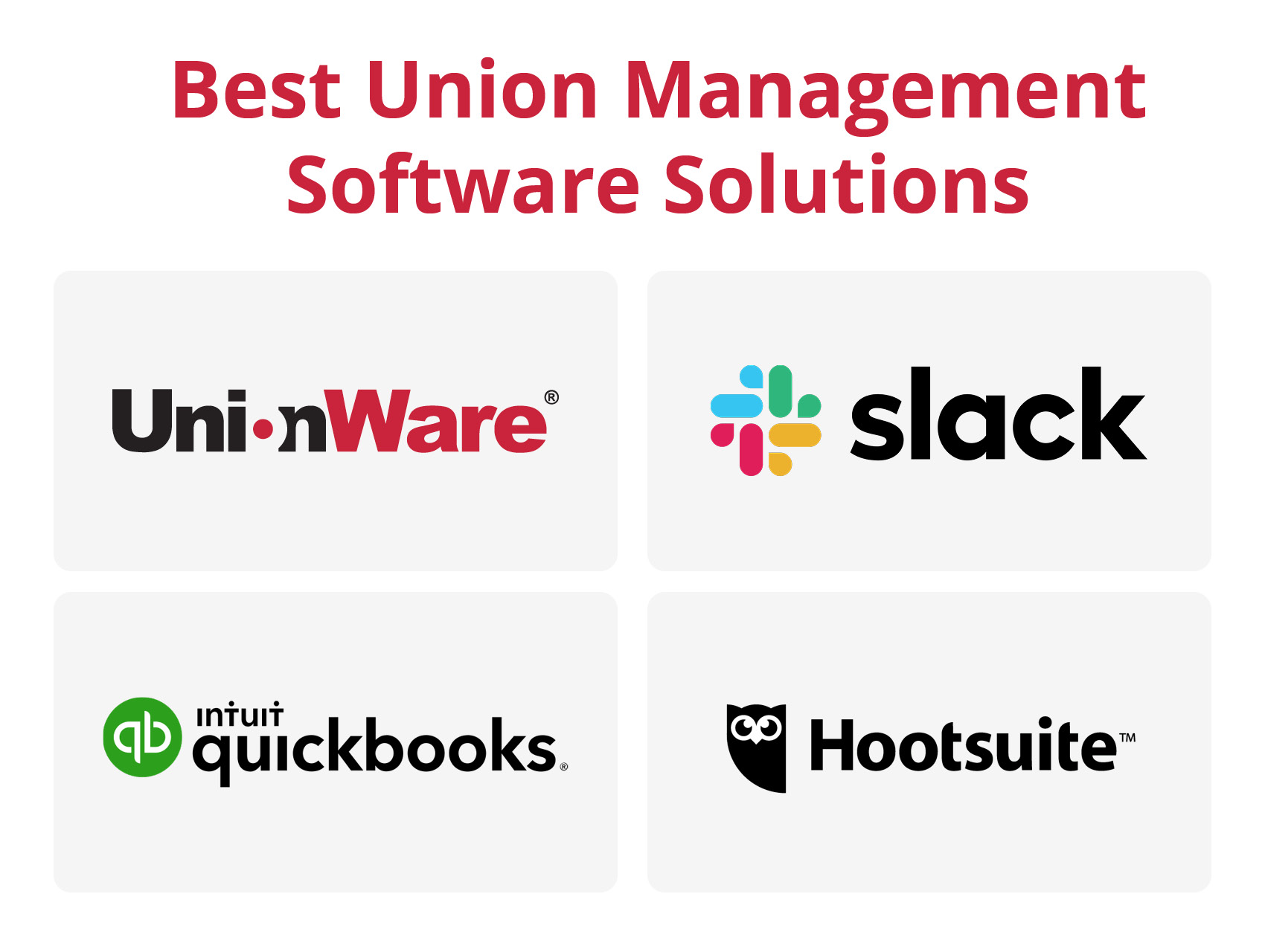 Best Overall Union Management Solution: UnionWare
Unlike the other options on this list, UnionWare is made with union needs in mind. It's the ultimate solution for optimizing the union-specific tasks on your plate, such as:
Membership management.

Collect in-depth information about your members, such as their history with their employers, contact information, and their activities with the union.
Payment processing.

Allow your members to customize their dues payment schedule and set up autopay so they never miss a payment.
Dues collection.

UnionWare's UPay feature allows you to break free from payroll deductions and take charge of your own dues collection, free of employer involvement.
Case management.

Stay on top of arbitrations and grievances by tracking case progress every step of the way.
Event coordination.

Say goodbye to tedious spreadsheets and keep all of your event information in one convenient location.
Contract management.

Monitor every detail of active negotiations so you never miss a deadline.
Communication organization.

Coordinate internal and external calls, emails, and SMS on a union-wide scale.
Contact information verification.

Never get a bounceback email again with UnionWare's contact verification.
Document sharing.

Boost teamwork across your union by securely sharing and collaborating on important documents.
Integrations. UnionWare can integrate with platforms such as Excel and QuickBooks to simplify data sharing and reporting.
Unions across the continent trust UnionWare with their everyday operations. For instance, the United Food and Commercial Workers union leverages UnionWare to manage more than 1.3 million members.

Choosing new software can be a big process, but UnionWare can help you at every step of the way with the AnalyzeU consultation program. Through this collaborative program, your union can receive expert advice about which features to choose based on your goals and how to customize your engagement accordingly. You only pay for the features you need and can keep your union running smoothly with an expert point of contact by your side.
Best Union Software for Internal Communications: Slack
In the union management world, effective communication is the name of the game. Staying on the same page as the rest of your team is crucial, and you need a way to instantly get in touch with your colleagues.
With more than 40 million active users each day, companies across the globe trust Slack for their everyday professional communication needs. It makes connecting your union's teams simple with features like:
Channels that allow you to organize conversations for certain groups or teams
Direct messages
File sharing
Integration with tools such as Trello and Google Drive
Workflow management
Two-factor authentication for security
Customizable notifications
Scalable price points, from free to enterprise
Internal teamwork is essential to your union's success. Keep your union running in top form by leveraging a robust yet accessible collaboration platform like Slack.
Best Union Software for Accounting: QuickBooks
Whether it's membership dues, legal fees, or overhead costs, there's a lot of financial data your union needs to manage. Fortunately, QuickBooks takes the guesswork out of the complicated process of accounting for union managers, allowing you to focus on your goals. Some of QuickBooks' best features for unions include:
Payroll management
In-depth budget management
Accounting data reporting
Tax preparation
Integration with other relevant software solutions, like UnionWare
Various affordable price points
QuickBooks is a user-friendly yet powerful accounting solution that streamlines your union's everyday financial operations. Plus, you can try its 30-day free trial to gauge if the program will complement your union. If you choose to buy QuickBooks, it includes an online training course to help you get started.
Best Union Software for Social Media Management: Hootsuite
Your union's power comes from your member community. Not only do they provide the funds you need to advocate for change, but they can also attract new members through their networks. Empower them to spread the word about your union and engage new audiences by strategically leveraging social media with Hootsuite.
This social media management platform has all the bells and whistles for unions with an established social media presence, but it's also useful for those trying to build an online identity. Hootsuite has several notable capabilities, such as:
Support for Instagram, Facebook, TikTok, Twitter, YouTube, LinkedIn, and Pinterest
Feed and story post scheduling
Analytics reporting across multiple social media platforms
Strategy suggestions based on analytics for previous posts
AI-powered caption writing through the OwlyWriter AI tool
Optimized hashtag suggestions
Posting automatically across numerous platforms
While social media is a game-changer for community outreach, it can be challenging to cultivate your audience with engaging content. Set yourself up for success by using Hootsuite's powerful suite of tools so you know which content makes your audience tick.

Tips for Recruiting the Next Generation of Union Workers. Learn some unique insights about how to retain and recruit young workers.

How to Manage and Retain Union Membership. Union member management can be challenging. Simplify the process with these expert tips.

Managing Your Nursing Union with UnionWare. Read this case study to learn how UnionWare can help your nursing union thrive.